Strategic BI Consulting – Explore Beyond the Obvious

While C-level executives are busy steering the organization towards success, such responsibility cannot be accomplished by a granular information. The right tool would be a summary of the complex data points condensed into easily digestible snippets yet relevant enough to translate into actionable insights.
Your holistic BI solution is like an iceberg – you're used to seeing the tip, which is necessary to know the state of business. But it's also important to drill down and determine the distance downward, which is why, we offer capabilities like real time analytics and an easily digestible in-depth analysis of your business.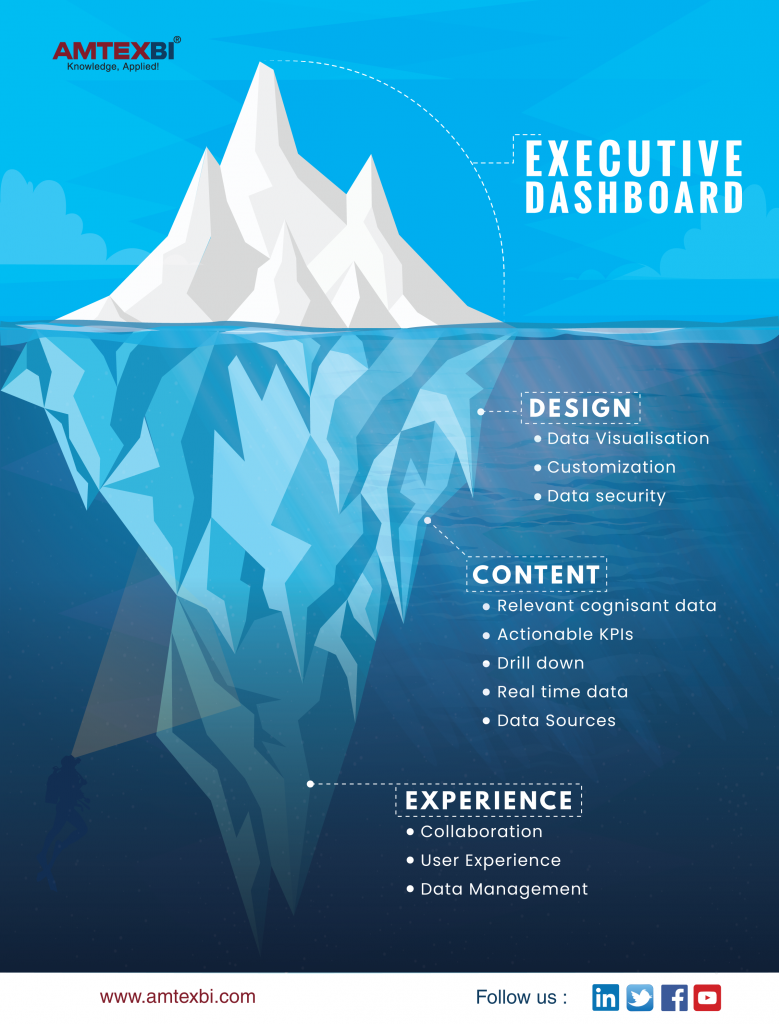 Did you know?
It is estimated that by 2020 the cumulative data that will be generated will amount to 1.7 MB every second for every individual on the planet.
An estimated 90 % of all data in existence today was generated during the last five years.
Strategic BI solutions for express decision-making
If you already have a BI tool, often, multiple business challenges can hinder your decision-making process across the organization. Here is where strategic advisory services can help your case. While insights gained out of irrelevant data could largely impact your company's future decisions, goals, missions, visions and market share, there could be a vast gap in you effectively utilizing your setup. BI tools are expensive, and it should be worth your investment by giving you the relevant insights when it matters.
To opt for a quick strategic assessment, please click here. Read on to discover some basic checks you can apply yourself, in evaluating your business challenges and the utility of your setup.
Drill down
Data-driven decisions are powerful, especially when they are backed by trusted data. A business overview report is great for a quick heads up but does not serve the purpose when one is meaning to make organizational decisions. Drill down capability is of paramount importance; CEOs needs to engage further with data, answer questions and define the best course of action.
Multiple Data Sources
A 360 degree business view calls for integration of every database associated with business which includes, third party integration, social media, employee database, inter-department applications and many more. A combined perspective from all the departments will enhance the decision making ability of the CEOs.
Intelligent Objects and Collaborative Analytics
Collaboration is vital to improve efficiency and productivity, save cost and boost innovation. When collaboration is mixed with analytics things start to shape up in the decision making side, it bring people, ideas and processes together to create an analytics powerhouse that enable stakeholders to analyze the data, share perspective and use intelligent insights for effective decision making.
Predictive and Prescriptive Analytics
The decision making at the C-level always involves future strategies and this is when predictive and prescriptive comes into play. The objective of predictive analytics is to foresee the problems in advance and prescriptive analytics goes one step ahead and suggests the actionable actions to be taken to mitigate the predicted issues. It's always good to use data at its full potential, and with analytics and great minds at work organization can take the leap of faith.
Real Time Insights
Real time business intelligence is the use of analytics and other data processing tools to give companies access to the most recent, relevant data and visualizations. More than anything, this up-to-the-minute information lets organizations make smarter decisions and better understand their operations.
Share post: