Accelerate your analytics – Metadata spruce up

WebFOCUS brings all the pieces of data puzzle together to give you a perspective within the context of business decisions you need to make. The BI platform acts as a large locomotive that can travel long distances carrying heavy loads – in order for it to do that efficiently, we need tracks laid out; think of metadata as these tracks.
Metadata is data about data – in the age of AI, automation and people analytics, metadata sits at the root of your data value chain. However, for it to function effectively a company must first have clean and accurate metadata enterprise-wide to get the maximum from its metadata environment.
Sprucing up your metadata is a core movement towards improved performance, slice and dice analytics, standardization, transparency, and time-to-market, while effectively reducing costs. It  boils down to having accurate master files that represent a single version of truth for your entire data warehouse.
But how do you know whether your organization needs a metadata spruce up or not? If any of the following sound like a challenge you face, you stand to benefit maximum by a metadata spruce-up:
Leveraging the cool new features of WebFOCUS sound like a challenge to you.
You aim to be a data-driven organization but you heavily rely on IT and face difficulty managing your analytics environment.
You use different data sources for reporting and struggle to create a single version of truth.
Your reporting setup is not agile enough to keep up with your reporting needs.
Benefits of Metadata Spruce-up
Simplify Data Discovery
Global companies have huge chunks of data stored at various locations connected and pulled together from various platforms; this increases the chances of data duplication and variations. Metadata management simplifies the data matching, linking and discovery by reducing the duplication and variations in data and creating one single source for all the data queries.
Faster reporting turnaround time
Metadata helps IT understand what data exists, where it is located, and what it means; minimizing information complexity. Metadata spruce up makes the stakeholders minimally dependent on IT to deliver reports at the time of need. The single source of truth retrieves data from one point of access. This allows multiple users to collaborate and work on meaningful insights for faster reporting turnaround time, effectively avoiding the disparities that multiple analysis angles may cause.
Improve productivity with data reuse
Your data can live on forever; do you plan to reuse it? A managed metadata environment allows companies to forego unused storage, reducing costs, and reducing time spent in identifying correct variations of an attribute. When the elements you need are already defined and presented to you the time spent reduces and the productivity goes up.
Eliminate redundancy
The cost of data management is directly proportional to the amount of data you store irrespective of your database. Additionally, the cost goes up if 20-30% of the data you store is duplicate. An effective meta data environment helps you create one single master reference source for all business-critical data, leading to fewer errors and less redundancy in business processes.
Improve data integration & change management
Metadata management makes it possible for a data-driven company with multiple sources of data to get 360° visibility of its business. With an integrated metadata process, you can respond faster to change, reduce costs, reduce complexity and support revenue growth.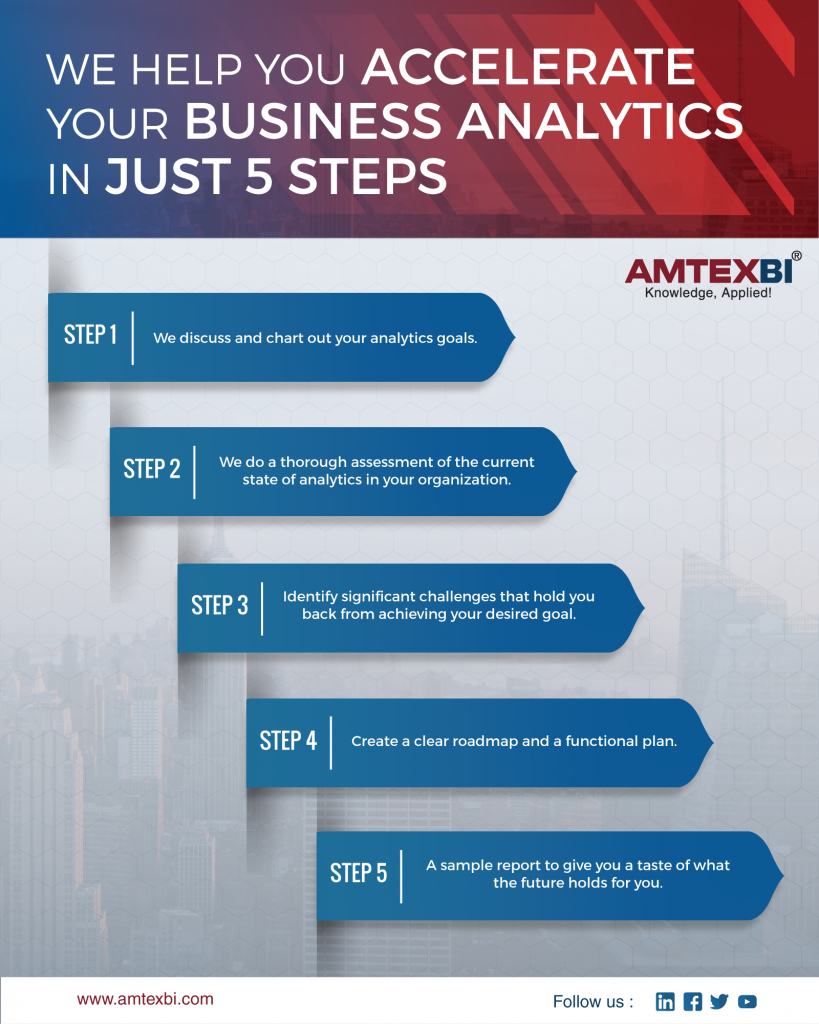 Conclusion
Regardless of the size and industry, every organization can benefit from a managed metadata program that can help in implementing a standardized metadata environment.
Amtex has been an IBI partner for nearly 2 decades, helping clients implement analytics solutions & enabling them to become data-driven organizations. Our deep knowledge of IBI products along with our management consulting approach to problem-solving ensures that our client achieves desired business results in the most efficient manner. As part of our Strategic Advisory services, we help clients identify/define business challenges, deploy relevant technology enablers such as Data Management, Cloud & AI and execute a tactical roadmap to achieve those goals.
Reimagine your Enterprise powered by Intelligence with Amtex BI.
Share post: