CWS 2022 Customer Tailgate Event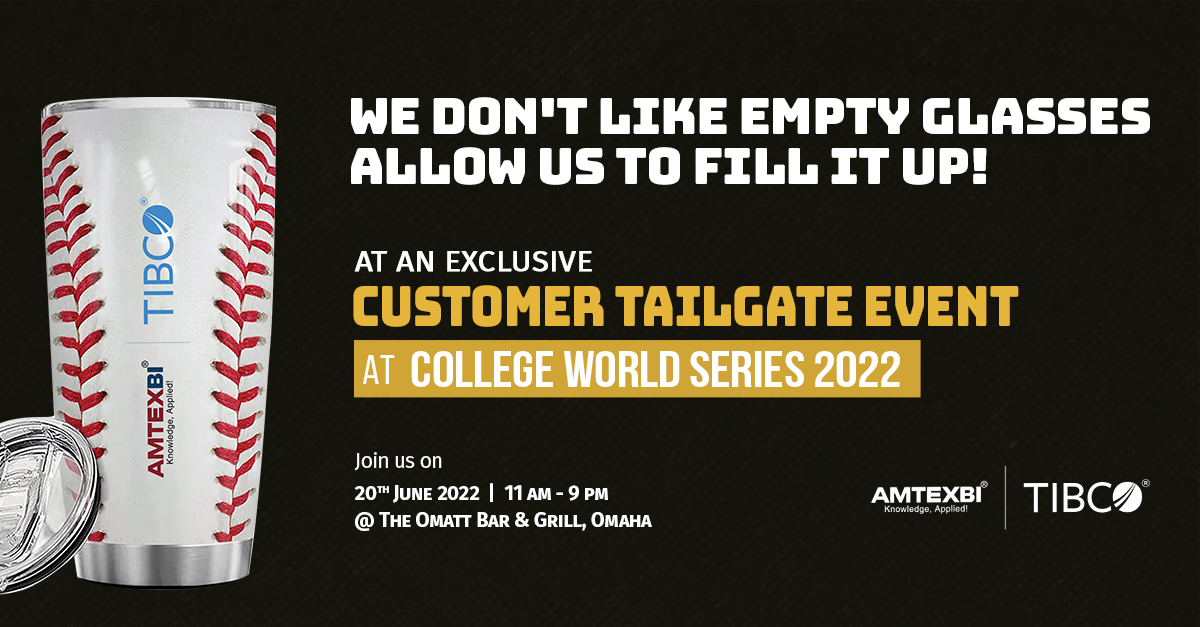 Can we say bye "virtual" already, please? The COVID-19 pandemic has affected every facet of our lives, from work to home, making the years 2020 and 2021 unlike any before. Our company has developed over time from building robust data-analytics strategies for WebFOCUS, to expanding expertise into the TIBCO product suite. But our clients and relationships have stayed constant. Despite the challenges, we were able to deliver a steady stream of exceptional services and establish stress-free associations with our clients.
Now that things have returned to normal, Amtex with TIBCO has decided to celebrate with our old and new clients while putting business as usual on hold.
So, if you're around the College World Series 2022 at Omaha, we'd love to meet you. We're hosting an exclusive CWS 2022 Customer Tailgate Event at Omatt Bar & Grill in Omaha on June 20th, 2022, from 11 a.m. to 9 p.m. for our clients, in a casual and informal setting. The celebration is open to Amtex and TIBCO Customers along with family and friends, with food & drinks on the house!!
This is a gated "Customers ONLY" event. The purpose of the event is to create new relationships and strengthen existing ones. It is an opportunity for us to say thanks, encourage, express gratitude, celebrate our old friends and build new connections. We are grateful to our clients and consumers for entrusting us with offering impeccable services and solutions. Our success story would be incomplete without the assistance of our clients and partners.
The partnership between Amtex and TIBCO is deep, both on a personal and professional level. With our collaborative efforts, we've hit a productive stride. The benefits of our collaboration can be seen in the company's steady, long-term growth.
We're looking forward to meeting new folks and making new friends who share our interests. Don't miss out on this opportunity to attend our event, as the first ten people to do so will receive Mercedes F1 merchandise!
Register here to RSVP for the event!
Hope to see you there!
Share post: